11 Mar 2021
Celebrating International Women's Day 2021: Imogen Whitehead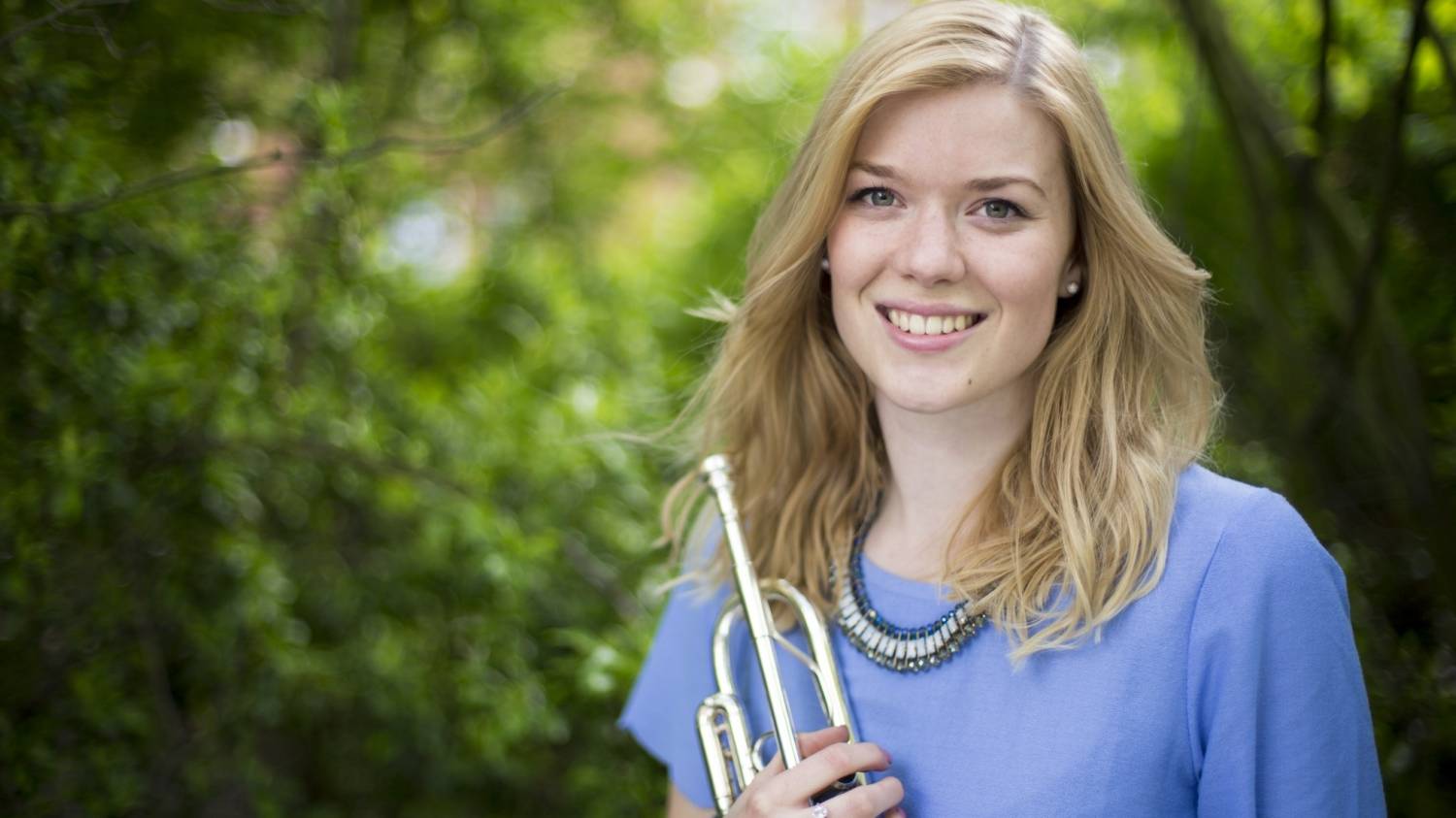 We spoke to one of our volunteers, Imogen, about what International Women's Day means to her
Can you tell us a bit about your job, your favourite part about your role, and the most challenging?
My role at Wimbledon Guild is as a volunteer Befriender (since October 2018) and Shopping Assistant (2020). Outside of volunteering, I am a professional trumpet player. As a freelance classical musician, I enjoy a varied career, performing with orchestras such as the Royal Philharmonic Orchestra and English National Opera, working in London's West-End at Phantom of the Opera (pre-Covid) and giving recitals as a soloist.
My favourite part about my job is the iconic venues I get to perform in, such as the Royal Albert Hall, and of course playing wonderful music alongside world-class performers, who also happen to be your friends! The most challenging part of my job is the unpredictability of freelancing, and the constant pressure to practise and stay in shape so that you can always be on top form.
Which woman has positively impacted you in your career? What's one lesson she taught you?
The Norwegian trumpet soloist Tine Thing Helseth. I first met her in 2016 on a summer course that she was teaching on in Norway and we got on really well. I loved Tine's teaching style so much that I actually went to live in Oslo for two months the following year to study with her!
Tine's career as a soloist began when she was just 18 years old and she is very open about the fact that she worked almost non-stop for 10 years straight, resulting in her needing a break and having to take many months off performing.
Now in her early 30's, Tine has a really healthy attitude to her career and is much more in control of the work that she takes on. She is not afraid to show vulnerability and uses her own experience of those dark times to help others recognise when they might be heading down the same path. She has been a wonderful friend and mentor to me over the past few years.
Which women are you inspired by?
I have two rather different answers for this…

1) Beyoncé! She is unbelievably talented, family-oriented, humble and, in my opinion, just the embodiment of female empowerment. I have a poster of her on my practice room wall to remind me to be fierce in my playing and to have confidence in myself.

2) My identical twin sister, Catherine. She was recently described by one of her colleagues as "a ball of sunshine" and I think it couldn't be more true. Catherine is such a positive, generous person and really takes life in her stride. She is always looking for new challenges, be it running her own successful baking business, travelling solo around the world for six months or becoming Head of Customer Experience for a technology start-up! Her seemingly boundless energy for helping others really inspires me.
Are there any challenges you have faced as a woman in your career?
As a female brass player, there are certainly a number of challenges that I face in my career. There are now more female brass players than ever, both in the profession and studying at music colleges, however this is not yet translating into more women holding permanent positions in orchestras.
Out of roughly 25 trumpet jobs in the major London orchestras, two are held by women, and both of those women have been in those jobs for over 25 years. In other major orchestras around the UK, and in most parts of the world, there are no trumpet positions held by women. The landscape is definitely starting to change, but until more women get trumpet jobs in major orchestras, the pace of this change is likely to remain slow.
Do you think your career has been more of a challenge because of your gender, and are there any instances when you have had to advocate for yourself or someone else in the workplace?
I think that the best way that I can advocate for myself in the workplace is through my playing - that's where I'll be able to prove that I can play more than just a pretty tune!
Other common prejudices against female brass players include assumptions that women can't play as loudly or as high as men. An older colleague of mine, whom I'd never met or played next to before, once expressed surprise to another colleague at how loudly I could play. I'm sure that his comment was meant as a compliment to me - and I suppose it did feel good to know that I'd surpassed his expectations - but ultimately I felt disappointed that his expectation of me had been so low to begin with.
How important is it for women to lift each other up and what does that mean to you?
I think it is hugely important for women to lift each other up, no matter what career they're in. There are still many glass ceilings left for women to break through and we're going to do it a lot faster if we give each other a leg-up.
On International Women's Day, what is the most important message you want to send out to young women thinking about their careers?
I think the message I would send out to young women is that change is coming. Progress may be slow, and we may have to be patient, but through hard work and strength of character we will prove that we deserve the top spots just as much as our male colleagues. We just need to keep the faith that we will eventually achieve equality.
What does International Women's Day and its theme this year, #ChooseToChallenge, mean to you?
This year's theme #ChooseToChallenge reminds me of a quote by American author and speaker, Brené Brown. In her brilliant Netflix film 'The Call to Courage' Brené talks about the importance of choosing "courage over comfort" every day. By choosing to challenge the prejudice or expectations set upon us as women, we are demonstrating our integrity by choosing what is right over what is easy. That's how positive change happens.
Thank you Imogen! We'll be sharing other staff and volunteer profiles across this week so make sure you check back for more.
Help us make sure that no one in Merton has to face life's challenges alone
We're offering practical help and support to more than 2,000 people across our borough every year. Whether they're worried about money, they're feeling low or overwhelmed, or they're looking for new friends and activities locally, we're always here. Or at least we can be, with your support. Will you help us make sure that no one in our community has to face life's challenges alone?