About us
A local charity supporting people across Merton
We are a community charity in Merton providing a hand-up, not a hand-out. We want you to feel valued, respected and empowered to live life your way. Whether you need emotional, financial or practical support, you can turn to us for help getting back on track.
Wimbledon Guild is more than just a place, it is a real community where everyone belongs.
As the needs of our local community change, we will be ready to meet new and emerging needs. Our services aim to:

Reduce social isolation and loneliness
Help people who are experiencing difficulties
Enable older people to be active and healthy
Last year Wimbledon Guild worked with over 2,000 individuals from across the borough.
We provide free independent and professional advice services from an experienced team.
We aim to make our Talking Therapies services affordable and subsidise them, charging a sliding scale of charitable rates.
Families are key clients for our Small Grants Programme.
The over 50s can be as active as they wish with our clubs and classes programme and our Home Food Café welcomes diners each weekday.
Our befrienders make regular visits to local people who are virtually housebound.
Our premises are used by 27 groups and over 270 volunteers currently take part in our volunteering programme.
Find out how we supported people across Merton during the pandemic in our latest Impact Report: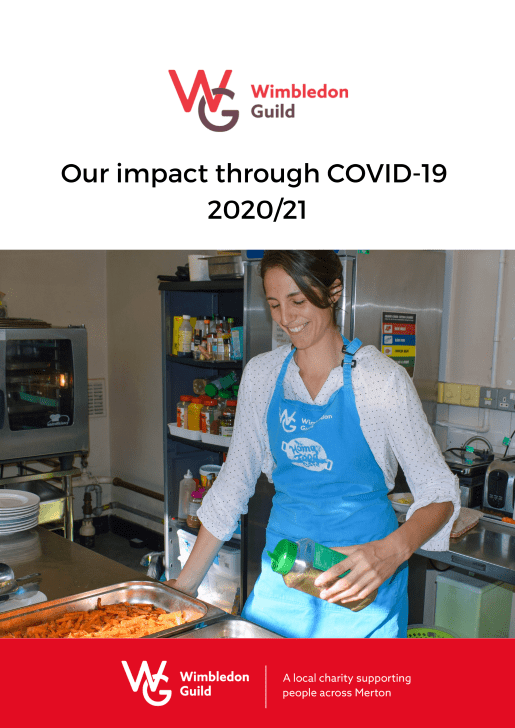 A copy of our most recent Annual Accounts can be found below:
Wimbledon Guild Annual Report and Accounts for the Year Ended 31 March 2021
Help us make sure that no one in Merton has to face life's challenges alone
We're offering practical help and personal support to more than 2,000 people across our borough every year. Whether money's tight, they're feeling low or overwhelmed, or they're looking for new friends and activities locally, we're always here. Or at least we can be, with your support. Will you help us make sure that no one in our community has to face life's challenges alone?