12 Mar 2021
Celebrating International Women's Day 2021: Sally Anderson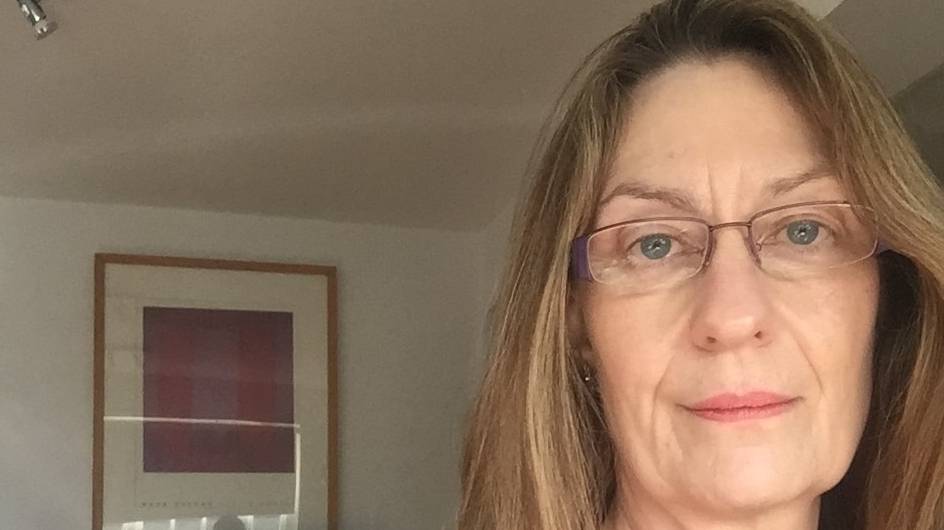 We spoke to Talking Therapies Groupwork Manager, Sally, about what International Women's Day means to her
Can you tell us a bit about your job, your favourite part about your role, and the most challenging?

I'm a Talking Therapies Groupwork Manager for Wimbledon Guild. One of the things I'm really proud of is that, alongside the other extremely valuable forms of support it offers to the local community, Wimbledon Guild has recognised the importance of offering affordable therapy to individuals, families and groups.
The accessibility and high quality of these therapies has meant many people have been able to benefit and ultimately take control of their own lives.
As human beings, we grew up in and continue to spend large portions of our lives in groups – at school, work and socialising. Group therapy and support groups allow us to gain from the support and knowledge of our peers and to share and benefit others with our own personalities and lived experience; they offer extremely valuable and safe contexts in which we can explore and experiment with old and new ways of relating to ourselves and others.
In terms of equality, groups are the ultimate; a place we can be both vulnerable and safe, where we are all given an equal place, and where the power of the combined members is so much greater than the sum of its parts.
One of the favourite parts of my role is running groups. I'm a psychotherapist and dramatherapist; I have a lot of experience facilitating purely verbal groups, and also am particularly drawn to and enthusiastic about groups that incorporate the creative arts. The human body is expressive, and I love groups that offer opportunities to share and develop using voice, movement, story, and a huge variety of creative materials.
The most challenging aspect of my role? Particularly with the pandemic, my role has increased, although the time I have to do it remains the same, so just trying to keep on top of things and balance what needs to be done without falling behind too much in any particular area.
Which woman has positively impacted you in your career? What's one lesson she taught you?

My mother. She was extremely hardworking and never waited around for someone else to do something for her. Although she grew up in an age and economic environment when women might have been encouraged to see themselves as 'less than' or second class citizens, I never got any messages from her that led me to believe I was any less as a woman - not less capable, not less intelligent, not less independent. I'm also extremely grateful to her that she never fed me a stereotypical script and left me to make my own choices in life as a woman.
Which women are you inspired by and why?
My mother certainly. There have been so many inspirational women over the centuries; sadly, many we may never know about, their importance downplayed or hidden because they were women. My experience, to a large extent, was not one of being taught about inspirational women in school.
I'm inspired by 'everyday' women, who work and contribute to society, who bring up families, manage with the illnesses life deals them, and give us examples of the hugely capable, warm, talented people they are, enriching society and their fellow human beings.
Maya Angelou is a woman from whom we could all learn many lessons. As a human being, therapist and woman, I thoroughly admire her (who could fail to?). Her wisdom shines through in these lines from her poem, 'On the pulse of morning':
"History, despite its wrenching pain,
Cannot be unlived, and if faced with courage,
Need not be lived again."
I also appreciate the young women who inspire us today with such strong and brave examples: Malala Yousafzai and Greta Thunberg.
Are there any challenges you have faced as a woman in your career?
I'm so glad I no longer have to attend interviews where I'm questioned about my plans for pregnancy.
Do you think your career has been more of a challenge because of your gender, and are there any instances when you have had to advocate for yourself or someone else in the workplace?
For years, women have suffered through menopause and not been allowed to mention it or have any accommodation for this in the workplace, despite the fact that for some it is life-changing; thankfully I see some glimmers of change in this regard.
My experience is women themselves have often felt afraid to speak out about this and advocate for change as they fear they will lose the fragile hold they have on equality; yet arguably this leaves us unequal. I work for the day the taboo lifts and menopause and accommodations for it will be as common for us to talk about as maternity/paternity leave.
How important is it for women to lift each other up and what does that mean to you?
That's not a style of language that would come naturally to me. However, I think it's incredibly important women support, promote and advocate for other women. When a woman is in a position to help other women, why would they not seek to do so?
Women have sometimes come into power and, I don't know why, but perhaps afraid of the vulnerability of their position or their own internalised gender-prejudice, they have not sought to lift the bonds and limits from other women; this is unfortunate.
On International Women's Day, what is the most important message you want to send out to young women thinking about their careers?
Have one.
And maybe try to look further afield and not be stereotyped by choosing subjects or career paths others suggest or dictate to you; only you truly know what you are capable of and without trying new things you won't know if you like them and in what you shine.
What does International Women's Day and its theme this year, #ChooseToChallenge, mean to you?
We can all hold our hands up and say when we see something unfair, the challenge is often to give ourselves permission to do so. It doesn't have to be about who is right or wrong or polarising language like that; what about raising curiosity, challenging stuckness and blinkered vision.
And when the big stuff comes along, let's all hope we are brave enough to speak out and make a difference.

Thank you Sally! We'll be sharing other staff and volunteer profiles across this week so make sure you check back for more.

Help us make sure that no one in Merton has to face life's challenges alone
We're offering practical help and support to more than 2,000 people across our borough every year. Whether they're worried about money, they're feeling low or overwhelmed, or they're looking for new friends and activities locally, we're always here. Or at least we can be, with your support. Will you help us make sure that no one in our community has to face life's challenges alone?