16 Jul 2021
In conversation with...Silva Neves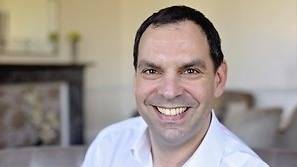 We spoke to the psychosexual and relationship psychotherapist about his new book and upcoming CPD course.
Silva Neves is a COSRT-accredited and UKCP-registered psychosexual and relationship psychotherapist, a trauma psychotherapist and an EMDR therapist. Silva specialises in working with sexual trauma and compulsive sexual behaviours. He works extensively with the LGBTQ community as well as the heterosexual population.
We caught up with Silva to talk about the launch of his book, Compulsive Sexual Behaviours: A Psycho-Sexual Treatment Guide for Clinicians, and his upcoming Wimbledon Guild Counselling Training course on Understanding compulsive sexual behaviours.
You've been doing a lot of media work during the pandemic and raising awareness around different topics what has that been like for you?
You are right. I have been very busy during the pandemic. One of the advantages of moving online was that it was easier to contribute to international training events, conferences and podcasts via online platforms such as Zoom. I think that our psychotherapy profession is very much in demand at the moment and it is great to see that there is a lot of interests from colleagues, we are willing to challenge ourselves and update our skills to contemporary knowledge. That's fantastic. Particularly, there is much need for contemporary knowledge of gender, sex and relationship diversities, I'm so glad I can contribute to helping my colleagues help their clients better. I have to confess that being very busy at work was a good way for me to distract myself away from thinking too much about the virus.

Congratulations on your new book please tell us a little about it and the process of writing it?
Thank you! my book Compulsive Sexual Behaviours is to help clinicians understand sexual compulsivity from the contemporary sexology point of view, updating old-fashioned ideas of 'sex addiction' to a sex-positive and evidence-based approach in line with what is clinically endorsed by WHO and the DSM-5. A numerous number of therapists trained in the traditional 'sex addiction' model asked for my help as a 'side supervisor' in addition to their primary supervisor because their model did not work. I was encouraged by many of them to write a book with my methods because they thought it would be very helpful. After a while, I accepted their challenge and decided to start writing. I discovered that I really enjoyed the writing process so writing this book was actually smooth. It was a wonderful process to put on paper what had been in my head for many years. And it was even more wonderful to hear the feedback of colleagues. My supervisees were right, many therapists find my book helpful. Phew!

How have you found moving to online teaching/training during this time?
I was already offering some occasional online sessions and I completed a training course on online therapy before the pandemic so I was one of the lucky ones who didn't need to learn everything about online therapy from scratch overnight. My transition was pretty easy. Training online is great because my trainings can now be accessible to therapists living anywhere in the UK and Europe (I even delivered two trainings for the USA, and one in Israel!). Before the pandemic, there was an issue that trainings were mostly in London making it expensive to attend for people living far away from the capital. Online training fixed this issue, and I hope that more online trainings will continue to be available post-pandemic. I have to say, I do miss the chit-chats with colleagues over a cup of coffee in break times though.

What are your hopes that attendees will gain from your CPD day with Wimbledon Guild?
I hope that attendees will enjoy the opportunity to think about 'sex addiction' differently, and to challenge some of their pre-conceived ideas about sex and sexual behaviours. The trainings I do on this subject are rich in clinical learning but it is also a space for self-reflection. It is quite a misunderstood clinical presentation, previous attendees often feedback to me that my training has brought clarity and confidence to work in this area, which is wonderful.
Tickets are now on sale for Understanding compulsive sexual behaviours with Silva Neves on Friday 5 November 2021.
Help us make sure that no one in Merton has to face life's challenges alone
We're offering practical help and support to more than 2,000 people across our borough every year. Whether they're worried about money, they're feeling low or overwhelmed, or they're looking for new friends and activities locally, we're always here. Or at least we can be, with your support. Will you help us make sure that no one in our community has to face life's challenges alone?