23 Sep 2021
Local trio run London Marathon for Wimbledon Guild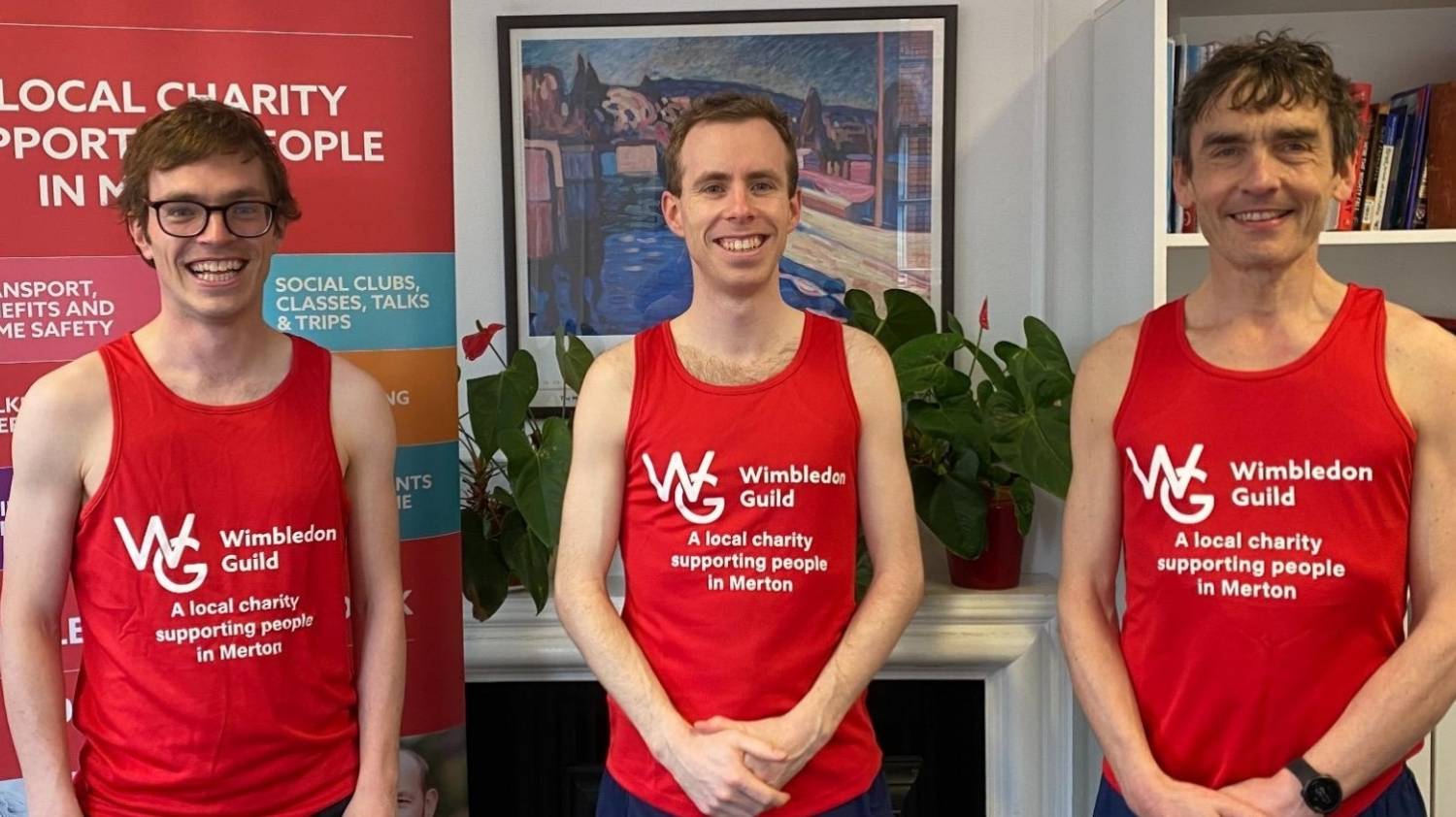 Max, Orlando and Andrew will be running their first ever marathon.
With just 10 days to go until this year's Virgin Money London Marathon, we caught up with our fantastic runners. Andrew and Orlando are both in the choir at St Mary's, Wimbledon. They'll be running their first ever marathon along with Orlando's twin, Max, who is the Director of Music at St Mary's.
All three will cross the finish line here at Guild House on Worple Road on Sunday 3rd October. They've set an ambitious target to raise £10,000 for Wimbledon Guild and are halfway there! To show your support and help them reach their target please visit their Virgin Money Fundraising page to sponsor them.
How has your training been going?
Max: Pretty well, though I am resigned to the odd niggle at the end of a process that has lasted about four months.
Andrew: So far so good. As a 64-year-old, my modest aim is to get round the marathon course in one piece and at a pace which can be fairly described as running rather than walking or shuffling!
How do you feel about running your first marathon?
Max: Great - it's always nice to have a focus. The 'virtual' experience will be different - no crowds to cheer us on; on the other hand, we've chosen a lovely route close to home, enabling us to finish at the home of the Wimbledon Guild.
Orlando: Excited. I'm looking forward to putting to rest any ideas that my twin brother can out-pace me
Andrew: Apprehensive in the sense that, were I to collapse halfway round, people will say that I have only myself to blame!
Where are your favourite places to train?
Max: Narbonne Plage on the French Mediterranean, where I spent three days in September after all the tourists had left! Least favourite: a very steep hill, one mile long, in Cornwall, near Tintagel.
Orlando: The Thames path for the variety, Wandsworth Common for its convenience and Richmond Park for everything else.
Andrew: Wimbledon Common because it is close to home and beautiful in the early morning; Richmond Park because it is challenging, varied and a nice length to run round.
How did you first get involved with Wimbledon Guild?
Max: As a local resident, I've been aware of the excellent work Wimbledon Guild does for a few years - I cycle past the office on Worple Road practically every day. I'm very pleased now to be associated with it.
Andrew: Several friends are volunteers for Wimbledon Guild and have impressed on me what excellent work it does in helping people in need of assistance in the local area, particularly older adults and those who are lonely.
Why did you choose to run and fundraise for Wimbledon Guild?
Max: Merton as a borough seems to have become a more close-knit community during the pandemic, aided by new volunteering initiatives. Wimbledon Guild's focus on combating the challenges faced by people in 2021 - be that poverty or loneliness - made it an attractive cause to me.
Orlando: I was very impressed when visiting Wimbledon Guild's office, meeting everyone and hearing about the fantastic work you do for people in need.
Andrew: Because it's a local charity which I know does great work in the local community and which depends on financial support from local people.
What has the support from St Mary's congregation and family/friends been like?
Max: We have received wonderful support so far, probably because people feel that we are collecting for a very worthwhile cause. That said, in order to reach our £10,000 target, we must hope for such generosity to continue.
Orlando: Absolutely fantastic. We are so lucky to have such supportive family and friends.
Andrew: Because Wimbledon Guild has such a good reputation in the local community we have had an excellent response from our supporters though we still have some way to go to achieve our target.
What has it been like going from your day jobs to marathon runners?
Max: As a performing musician, I am often preoccupied with managing my energy levels and emotions. A long run gives a certain calmness which has provided a good antidote to the 'day job'.
Orlando: They are strangely similar - both are helped by teamwork, require lots of focus… and are, occasionally, a bit of a slog!
Andrew: My day job is sedentary so it is great to have a reason to take vigorous exercise.
Where will you be running on the day of the marathon?
Orlando: From Walton on Thames, down the tow path to Hampton, over the bridge, along the other side of the river to Bushey Park, followed by the final 8 gruelling kilometres to Wimbledon Guild's office on Worple Road.
We're all wishing you the best of luck! We'll be here to cheer you over the finish line on Sunday 3rd October!
Help us make sure that no one in Merton has to face life's challenges alone
We're offering practical help and support to more than 2,000 people across our borough every year. Whether they're worried about money, they're feeling low or overwhelmed, or they're looking for new friends and activities locally, we're always here. Or at least we can be, with your support. Will you help us make sure that no one in our community has to face life's challenges alone?