25 Aug 2020
Staff chat - Valbona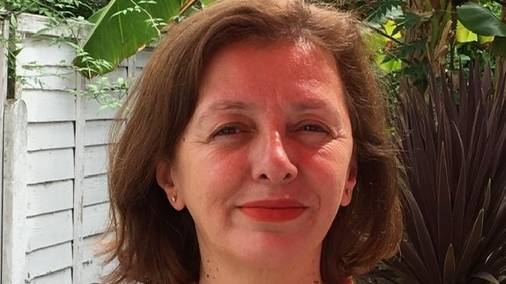 We catch up with Valbona, Wellbeing Coordinator in our Wellbeing Support team, to see how her role has changed since lockdown
Before lockdown, what did a typical day at Wimbledon Guild look like for you?
The Wellbeing Support team usually started the day with a short meeting to catch up and discuss cases that are more urgent. To help and support our clients we work with Social Services, GPs, families, charities and many other organisations. Every day we'd also see clients who - besides practical help - need emotional support if they are going through tough times feeling lonely, isolated and depressed.
Did you interact with our customers?
Yes. I work with clients who need ongoing support and we've been helping and supporting some of them for years. We have daily telephone calls with our clients and we'd usually see people in the office every day, or go and visit them at home.
What have you been doing workwise since lockdown began?
Just before the lockdown was introduced, I was not well myself and I self-isolated. A week later I spoke to my GP, and he told me that I must have caught Covid-19, which was recently con-firmed with the antibodies test.
My condition deteriorated and I ended up not working for over a month as it took me ages to recover. My colleagues did all the hard work of setting up emergency projects and working away from the office in new circumstances and, when I got back to work, I had their full support to get accustomed to working from home.
Since coming back to work I've been doing almost everything that I used to do before the lockdown, just not face to face. We have almost daily video meetings, I talk to clients on the phone, liaise with our volunteers and other organisations to help our clients.
Now that lockdown has eased slightly, I have started to visit people one to one, strictly observing social distancing guidelines.
Outside of work, what have you been doing to adapt to life under lockdown and has that changed as a result of the recent easing in restrictions?
While in self-isolation because of Covid-19, I couldn't help thinking of all those who could be in the midst of war at this time, lacking everything, the refugees, the homeless, and I remember how grateful I felt for the basic things that we tend to take for granted - a bed to lie in, water to drink, heating, a home. I continue to this day to feel lack of energy and sometimes I feel quite emotional, but I am getting better, for sure.

Otherwise, I have been doing things that I always enjoy doing; I love reading, writing, and cooking (and yes, I did that the moment I was able to stand on my feet and do things in the house!). With the easing of restrictions, I try to go out for walks as often as possible and see family and friends that I've missed so much.
How have the customers you have talked to been doing during this difficult period?
The clients I have talked to during this time, almost without exception, say they feel isolated and lonely more than anything else. As an organisation we have great volunteers that always go the extra mile to help them and this time they have done the same. We have had an enormous number of people calling to offer help in the community and they have made a huge difference in peoples' lives. I have now started to see clients who don't have families or friends for support, on garden gate visits as we call them, strictly respecting social distancing guidelines.
What has been the response from customers to the work you are doing during lockdown?
I find it difficult to answer questions on clients' behalf but I have to say that we have had countless calls and letters from customers saying how grateful they are for the help they get from Wimbledon Guild.
Finally, do you have anything else related to your work for Wimbledon Guild which you think people might be interested in hearing?
As a charity we are here to help, support and take care of people. We try to make the lives of our clients as easy as possible and we are determined and passionate about doing that.
What I would like to add here is the enormous support we get from our colleagues within Wimbledon Guild. I get overwhelmed every time I talk about the help and care I received from my colleagues during the time that I was unwell.
I got calls and messages every day inquiring about my health. They sent me things to read and videos to watch, just to make those days easier for me.
They even came to see me and stood outside my house while I was at my bedroom window talking to them. They brought things and left them at my front door. I can't thank them enough and I want them to know that the support I got from them meant the world to me.
Thank you Valbona! We're so pleased you're feeling better and are back with us. We'll be catching up with other team members over the next few days, so do check back for more!
Help us make sure that no one in Merton has to face life's challenges alone
We're offering practical help and support to more than 2,000 people across our borough every year. Whether they're worried about money, they're feeling low or overwhelmed, or they're looking for new friends and activities locally, we're always here. Or at least we can be, with your support. Will you help us make sure that no one in our community has to face life's challenges alone?