22 Sep 2020
Staff chat - Vanessa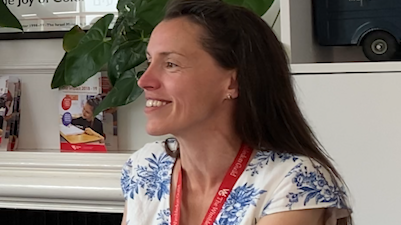 ​We caught up with our Welfare Manager to find out how her role has changed since lockdown
Before lockdown, what did a typical day at Wimbledon Guild look like for you?

As I'm sure others at Wimbledon Guild will say, there is no 'typical' day – it's one of the things we all love about working here! My colleague Helen and I work part-time, so if we are both in we start the day by catching up on case notes and running through the more complex grant applications.
Offering support to local families through our small grants programme is the main element of our Welfare service. It can be emotionally challenging to hear about the awful difficulties that some families and individuals are living through, but it is motivating to know we can make a positive impact through our words and actions.
For instance, when you can provide a family with a washing machine it immediately improves their quality of life – no more trips to the launderette with children in tow, or late nights spent washing clothes by hand. We also offer one-off emergency cash grants for those facing unexpected difficulties.
When not making cups of tea, I spend much of the day on the phone to clients to work out how we can help them as the Welfare team and as a charity – and if we can't help, I direct them to people who can.
I am lucky to have on my team Wimbledon Guild's well-known and long-serving driver, Frank, who works across all the departments. He is a delight to work with and is loved by our customers. People often tell me that they have spotted him driving the bus, perhaps dropping off Warm & Well packs or collecting donations from Wimbledon supermarkets.
Do you interact with our customers?
Part of our service is offering cash grants and Foodbank vouchers to local people who need them. Before Covid-19, Merton residents would often call in at Guild House for advice and assistance. The process involved a face-to-face chat through the difficulties the client is facing.
We look at ways not just to help the client at that moment, but in the longer term too - making referrals internally to other Wimbledon Guild services, like Wellbeing Support, Citizens Advice, or Talking Therapies, and externally to Christians Against Poverty, Link Café, Merton Uplift and others.
I have regular meetings with referrers and partners from Merton Council or other local charities, like the Merton Women's Refuge or the Foodbank. We are well connected within the borough and it's important to keep each other up to date.
I also love catching up with customers in the lounge and seeing our HomeFood Café regulars. I enjoy chatting with them about anything from Medieval history to Wimbledon tennis - I love listening to their personal stories and memories, which are often fascinating.
What have you been doing workwise since the start of lockdown?
When lockdown began, we had to make some tough decisions about how to continue running our service and offering the support that our clients and referrers expect from us.
We decided to put our main small grants programme on hold, as many suppliers were not delivering appliances and people's needs had suddenly changed from having to replace a bed or washing machine, to putting food on the table.
We immediately replaced our cash grants with supermarket vouchers to make sure clients could buy food. All eligibility assessments, which would usually have been done face-to-face, were carried out over the phone or by email. For people unable to leave their home, we delivered food parcels via the Wimbledon Foodbank, who were working flat out during the first 4 months of the pandemic.
Where we could, we continued to supply some small items to clients in need, such as microwaves and small fridges, so they were able to store and cook food safely.
We also started up a relationship with Merton's Community Fridge and have been organising the delivery of fresh food parcels to some of our clients locally. By participating in the scheme these clients are also helping to reduce food waste in the borough.
At the end of official lockdown, when suppliers began to offer limited Covid-safe deliveries and installations, we reopened our small grants programme to referring agencies, although we are still not able to operate at full capacity.
What has it been like adapting to the change in how you do your job?
Helen and I are both very practical and adapting to the changes in our roles has been challenging, but never daunting. It has been an unusual experience and we are both hoping to get back into the office to see our clients when it is safe to do so.
The lack of personal interaction with our clients has been hard - these interactions are what make our job particularly rewarding.
Outside of work, what have you been doing to adapt to life under lockdown and has that changed as restrictions have eased?
Home-schooling children during lockdown has brought challenges and it has sometimes been hard to tell whether I am working from home, working from the classroom, or schooling from work.
The kitchen table has been where home, work and school meet and mingle. Without school to contend with over the summer, this tangle started to unknot. Now that schools have returned, the ability to separate home and school is much easier.

How have the customers you have talked to been doing during this difficult period?
Our clients have found lockdown hard. We have had people contacting us because the pandemic meant that they lost their job. Some have been ill themselves or shielding. Everyday tasks like going to the shops, which for some clients were challenging before the pandemic, turned into insurmountable problems, particularly where mental health has been a factor.
However, in many cases the virus and lockdown were not the cause of the clients' problems - it just added another dimension to existing difficulties. For some the sudden help offered in response to the pandemic by energy suppliers and landlords, for instance, was an unexpected relief.
What has been the response from customers to the work you've been doing?
Historically the Welfare team doesn't receive much feedback from clients. However, the feedback we have had has been well-received and encouraging. One email said: 'Thank you for your continued support which is much appreciated', and another: 'Thank you for the weekly deliveries, God bless all.'
Finally, do you have anything else related to your work for Wimbledon Guild which you think people might be interested in hearing?
I think my team is the longest serving in the entire office. Between us we have clocked up more than 45 years' service.
During my 11 years, there have been many exciting changes and new ways of working that have required Wimbledon Guild staff to be flexible and adaptable, but nothing like the past 5 months. It has been amazing and incredible to see how we have risen to meet the challenge successfully and adapted our services to continue to support the most vulnerable. I'm really proud of what we have achieved.
Thank you Vanessa! We'll be catching up with other team members over the next few days, so do check back for more!

Help us make sure that no one in Merton has to face life's challenges alone
We're offering practical help and support to more than 2,000 people across our borough every year. Whether they're worried about money, they're feeling low or overwhelmed, or they're looking for new friends and activities locally, we're always here. Or at least we can be, with your support. Will you help us make sure that no one in our community has to face life's challenges alone?